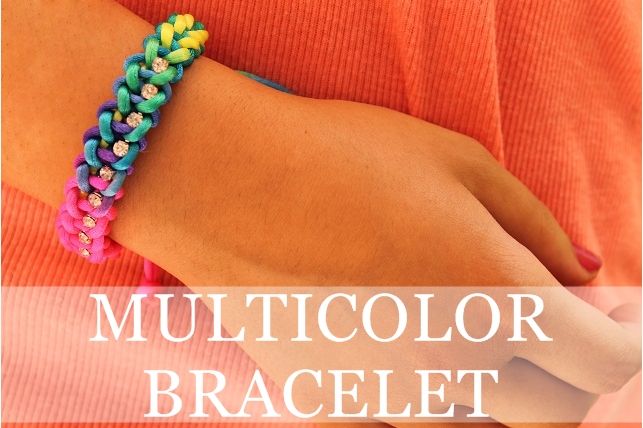 As today is Friday we have a new DIY, this time is a neon bracelet perfect for summer. The first time you do it is some complicated but then is very easy and quick to do.
Como hoy es viernes tenemos un nuevo DIY, esta vez una pulsera en color flúor perfecta para el verano. La primera vez que se hace es algo complicada pero poco a poco va saliendo sola y cada vez se consigue hacer más rápido.
What we need:
- Colored cord (this is called mouse tail).
Qué necesitamos:
- Cordón de colores (este se llama cola de ratón).
- Cadena de brillantes.
- Metro.
- Tijeras.
- Cinta adhesiva.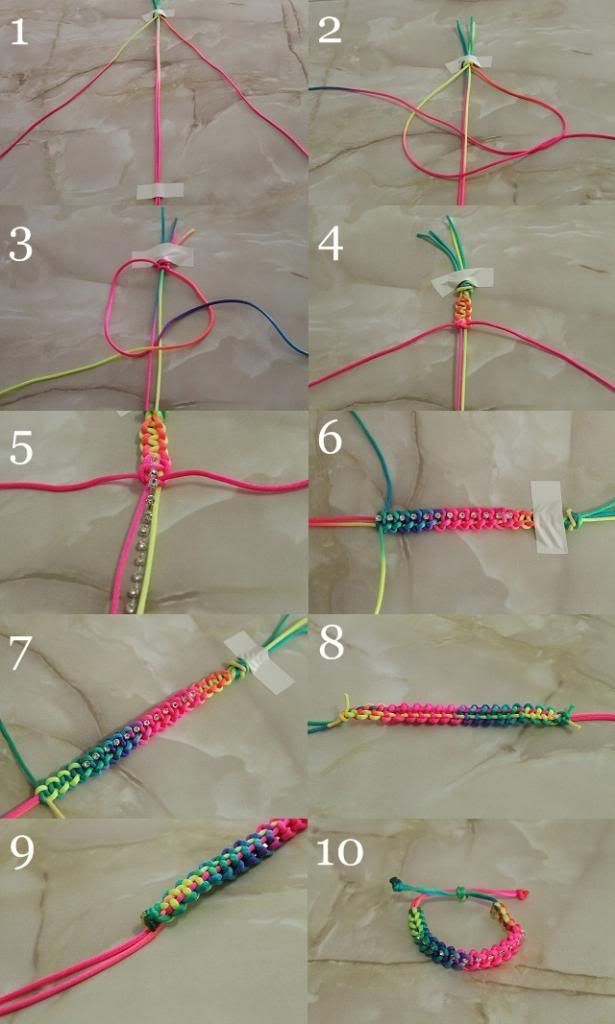 How to do it:
1. Cut 4 pieces of cord (two cords of 1 meter and 2 of 1.50 meters) and do a knot (not too hard because then we will have to undo it). We hold the knot area with adhesive tape and also the two longest cords (see photo 1).
2. We do the knot see of the picture number 2.
3. We do the knot of the picture 3.
4. Repeat the process 2 and 3 about 4 times each one.
5. Began to enter the chain with a knot above (as in photo 2) and then another below (as in photo 3).
June. Repeat the process from step 5 until the end of the chain.
8. We do two knots with the two cords that have been using and undo the first knot (step 1) to also make two knots with these two cords, and cut the remaining cords (of these same cords).
9. To ensure knots well we have to burn the ends of the cords with a burner.
10. With the two remaining cords on each side make a knot at the ends and cut the remaining cords (we burn the ends). We join both cords making a sliding knot.
Cómo hacerla:
1. Cortamos 4 trozos de cuerda (2 cuerdas de 1 metro y 2 cuerdas de 1,50 metros) y las atamos con un nudo (no muy fuerte porque después habrá que deshacerlo). Sujetamos la zona del nudo con cinta adhesiva y también los dos hilos más largos (ver foto 1).
2. Hacemos el nudo que vemos en la fotografía número 2.
3. Hacemos un nudo como el anterior pero orientado hacia el otro lado.
4. Repetimos el proceso 2 y 3 respectivamente unas 4 veces cada uno.
5. Comenzamos a introducir la cadena haciendo un nudo por encima (como en la foto 2) y después otro por debajo (como en la foto 3).
6. Repetimos el proceso del paso 5 hasta finalizar la cadena.
7. Volvemos a hacer el paso 4.
8. Hacemos dos nudos con los dos cordones que hemos ido utilizando y deshacemos el primer nudo (paso 1) para hacer también dos nudos con dos cordones, y cortamos el cordón restante de dichos cordones.
9. Para asegurar bien los nudos quemamos las puntas de los cordones con un mechero.
10. Con los dos cordones de cada lado sobrantes hacemos un nudo en los extremos y cortamos lo sobrante (volvemos a quemar con el mechero las puntas). Unimos ambos extremos haciendo un nudo corredero.