As you have seen on instagram these days we have done a manicure very "sweet." Although at first sight it maybe seems complicated, is very easy to do but it takes some patience :)
Hacía tiempo que no publicábamos un DIY y como habéis visto en instagram estos días nos hemos animado a hacer una manicura muy "dulce". Aunque a primera vista quizá parezca complicado, os aseguramos que es muy sencillita de hacer pero eso sí, se necesita algo de paciencia :)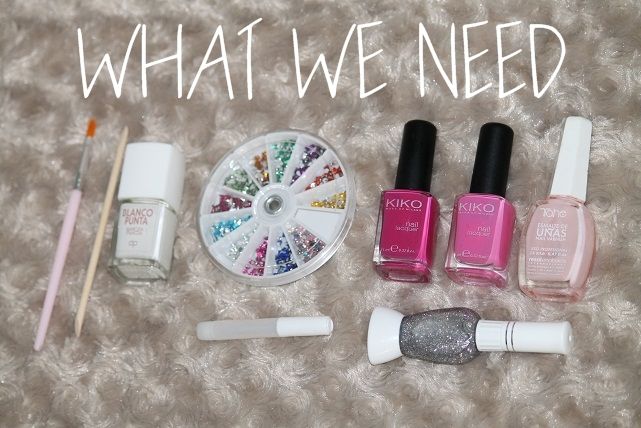 We used two pink nailpolishes, one white nailpolish, other nailpolish that is a French manicure base color (you can choose the colors that you like), a silver nailpolish pen, a brush, a stick, nail rhinestones (we used two) and nail glue.
Hemos utilizado dos esmaltes de colores rosas, uno blanco y otro color base de manicura francesa (vosotras podéis elegir los colores que más os gusten), un lapicero de brillo plateado, un pincel, un palito, brillantitos para uñas (solo hemos utilizado dos) y pegamento de manicura.
1 -
Paint all nails except one (the nail in which we want to draw the cupcake) with dark pink. And paint the other nail with the nailpolish on the right (French manicure base color).
2 -
With the help of a brush we paint light pink lines.
3 -
On the different nail draw a sort of "eggshell" in white.
4 -
And under this white brushwork, paint with dark pink.
1-
Pintamos todas las uñas excepto en la que queramos dibujar la cupcake en el color rosa más fuerte. La otra uña la hemos pintado con el esmalte de la derecha (es color base de manicura francesa).
2-
Con la ayuda del pincel pintamos las líneas con el rosa más claro.
3-
En la uña diferente dibujamos una especie de "cáscara de huevo" en color blanco.
4-
Y bajo esta pincelada blanca, pintamos de rosa oscuro.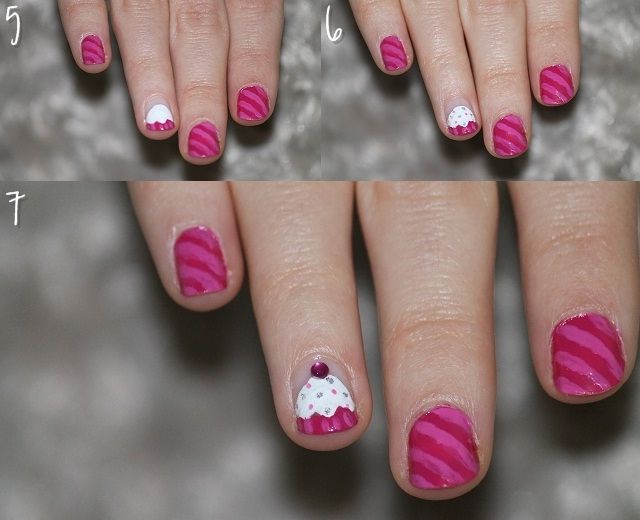 5 -
Do soft lines with the ligh pink nailpolish (the cupcake wrapper).
6 -
We draw small dots. We used the light pink nailpolish with the help of the stick and also the silver pen.
7 -
Paste a
rhinestone
on the "
cupcake".
And this is the result, what do you think? If you do it we would like to see it :) We hope that you like it.
5-
Hacemos con cuidado unas ligeras líneas de color rosa suave (el envoltorio de la cupcake).
6-
Hacemos puntitos pequeños. Nosotras hemos utilizado el esmalte rosa claro con ayuda del palito y también el lapicero plateado.
7-
Ponemos la guinda al pastel literalmente jaja. Pegamos un brillantito sobre la "masa del cupcake".
Y ya está, ¿a qué es más sencillo de lo que parece? Si os animáis a hacerlo nos encantaría poder verlo :) Esperamos que os haya gustado.